A gravestone gives you one last chance to memorialise a loved one who has passed away. It's a tribute to their life that will remain for many years to come, so choosing the right one is paramount. In times of emotional turmoil making decisions can be difficult. This guide has been written to help make the process easier and will take you through every aspect of choosing, buying and maintaining a gravestone.
Types of Gravestone
The type of gravestone you choose should represent the deceased's personality and complement the epitaph. It's important to know how much text or images you'd like before you make your decision. This will ensure you have enough space to present your message in a smart and sophisticated manner. There are many different types of gravestone available in all sorts of shapes, sizes and materials; and each one can be customised to create something completely unique.
Headstones
Upright gravestones are the most common. In most circumstances they are tall, thick and rounded with a concrete base. They are usually around three feet high by two and a half feet wide by one foot deep. Upright gravestones are made from a wide selection of materials, most commonly granite and marble.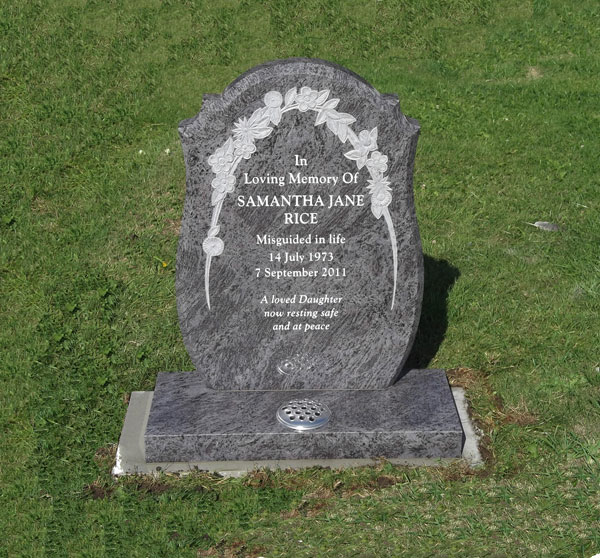 Flat Tablet
These simple gravestones which tend to be rectangular, are either flush with the ground or raised very slightly to allow water run off. They are usually cheaper than other gravestones and contain little information in comparison. Flat or ground level gravestones are usually made from either granite or bronze. Painted designs or lettering have a very limited life span on these gravestones.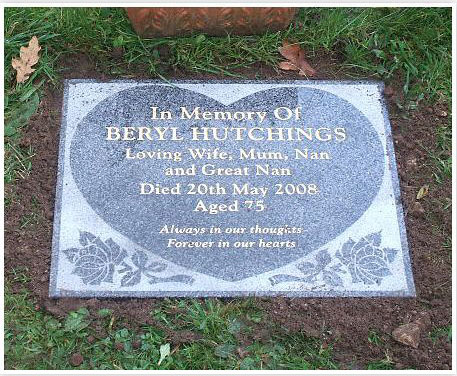 Desk tablet
Also known as as the DVT (Desk vase tablet) gravestone. They resemble miniature upright headstones, though thicker and shorter. They sometimes have a cement or granite foundation to keep them in place.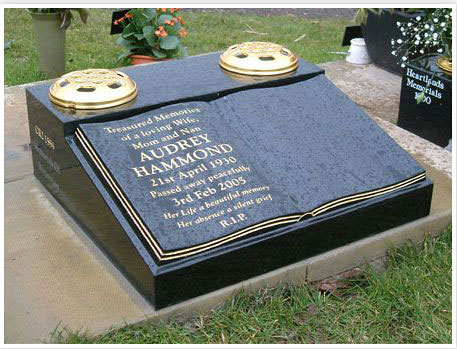 Ledger Slab
Ledger slabs are thick slabs of granite, marble or sandstone which cover an entire grave. They are often used in conjunction with other gravestones or memorial plots. Ledger slabs can also be joined together to create a multiple burial plot.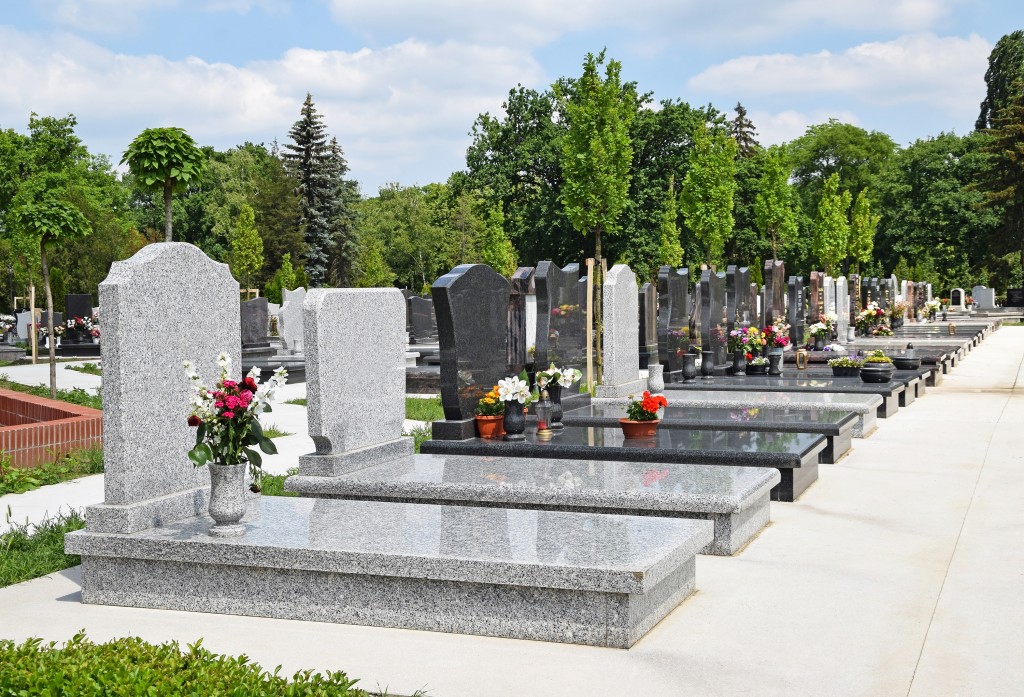 Obelisk
These tall columns are mounted on pedestals and point up towards the sky. They often contain intricate designs, to suit individual gravestone requirements. They can significantly vary in height.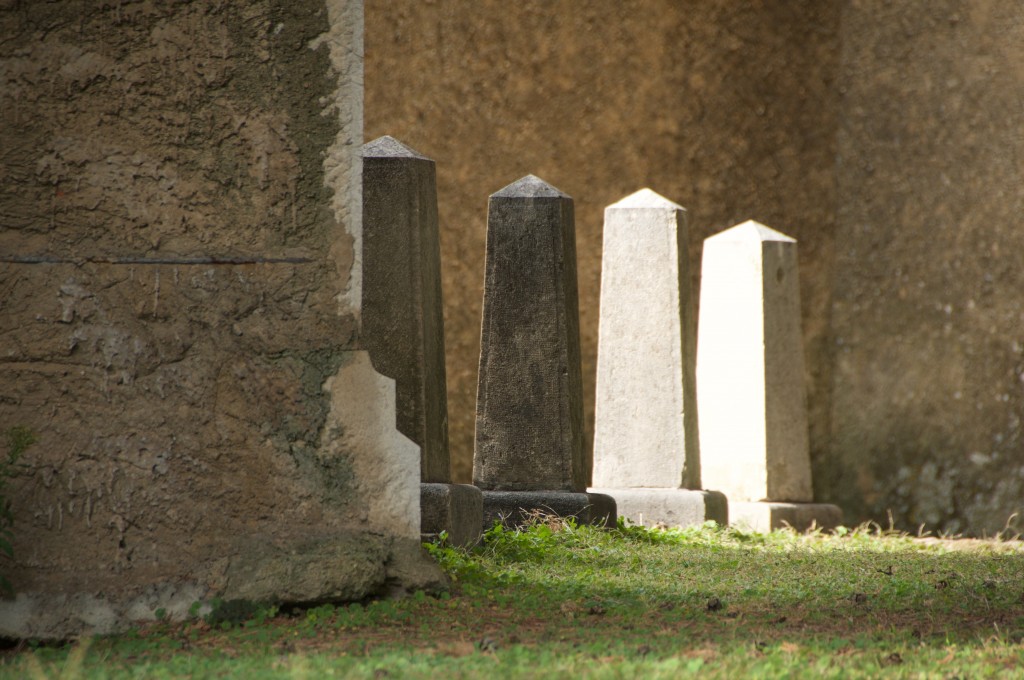 Second/Additional burials
When you choose your gravestone, try to honour the wishes of the deceased as closely as you can. The type of gravestone you choose can tell people a lot about who's buried, so keep their personality and taste in mind. Companion gravestones are perfect for those whose wish was to be buried with loved ones. If you're thinking about cremation for one of your parents after the other has been buried there is an alternative. The cremated remains can be interred in the existing burial plot and a small cremation stone placed in front of the current headstone (subject to cemetery regulations).
Lawn memorials
A lawn memorial is made to be fixed at the head of a burial plot with a classic base and headstone combination. They can be crafted using a large range of materials – all with lasting durability and protection against weathering. Many lawn memorials are made to meet the set regulations of the churchyard. Other types of memorial, often for use in a private garden, include benches, statues, ornaments and water features.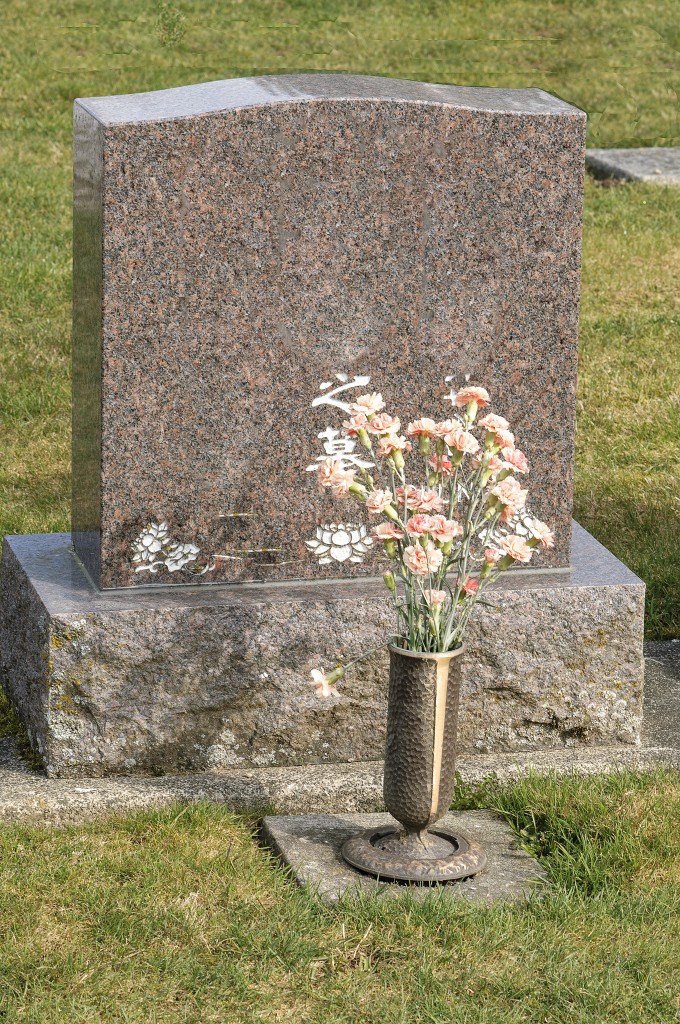 Kerbed memorials
Kerbed memorials (leger markers) include a line of stone which forms a rectangular edge covering the whole grave. Kerbed memorials provide more room for personalized expression. Some cemeteries are beginning to allow traditional kerbed memorials again and so they are set to become more popular in 2018. While lawn memorials are still very popular, the kerbed memorials create a set area and allow your loved one's memorial to stand out in a cemetery. Kerbed memorials can have different types of cover slabs or chippings, or alternatively they can be left open for planting.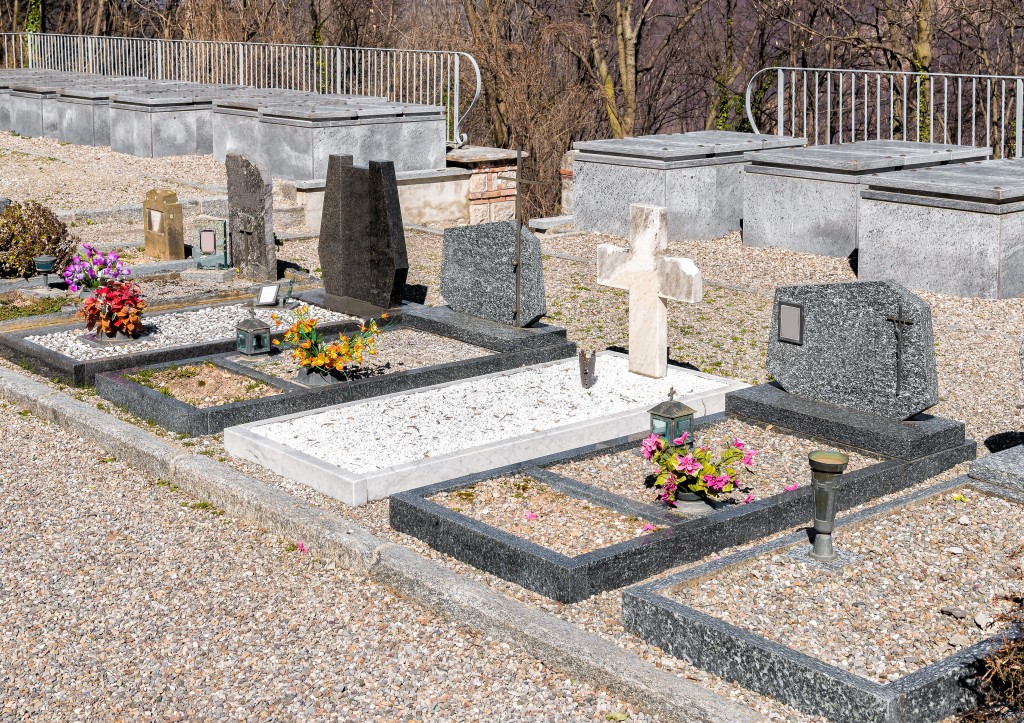 Memorial headstones
Memorial headstones can be made from a number of different types of materials with lasting durability against weathering and a selection of designs. A memorial reflects the individual who is missed, the relationships they had with family and friends – and their connection to you. You can add personalised engraving – inscriptions from them to you if they have asked for something specific – and an inscription from you to them.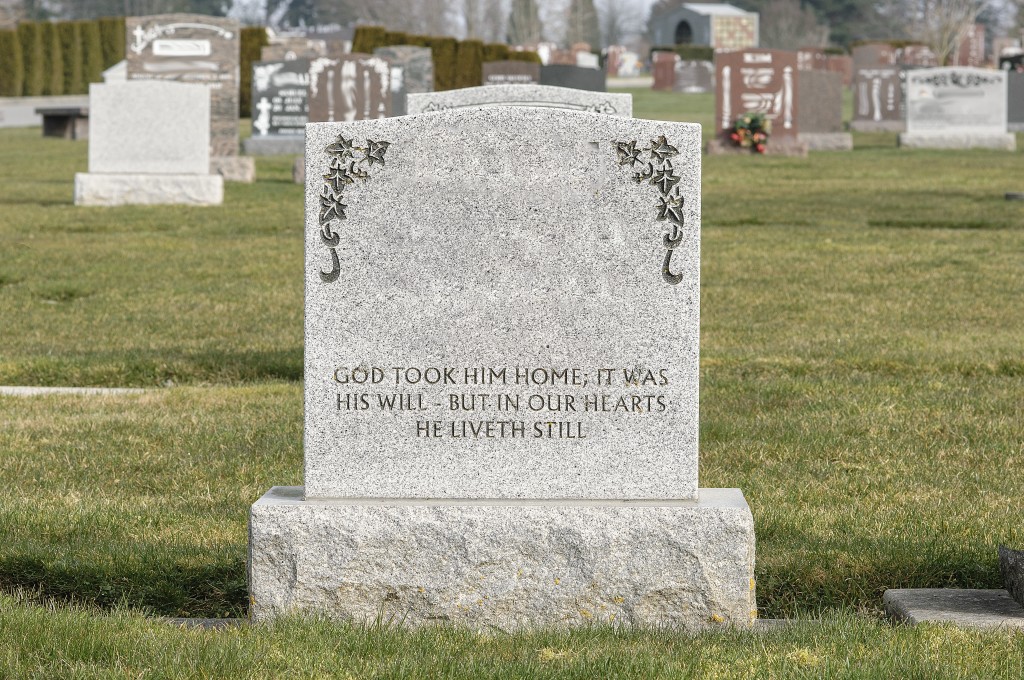 Bespoke memorials
Once you have chosen the way in which you want to mark the grave, bespoke memorials mean that you can personalise it to make it unique, and tell a story. An alternative design can really reflect the individual personality of your loved one for family and friends to recognise. You can choose exactly what size, shape, colour and finish you would like your memorial to have. You can also choose from many different lettering styles. Finally, inscriptions will allow you to choose words carefully to create a special and personal memory.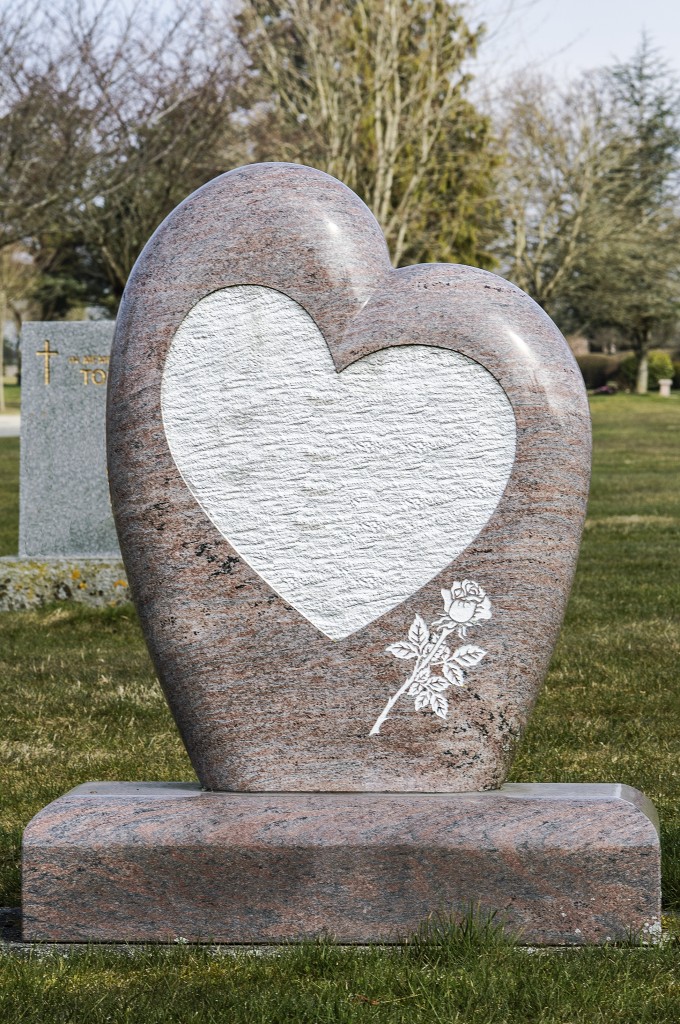 Cremation memorials
Cremation memorials ranging from headstones to plaques, to urns and vases. The memorials can give you a point of focus and a connection for friends and family to reflect on the memories during the relationship. Inscriptions on the cremation memorials give you the opportunity to comfort those who visit with some personal words.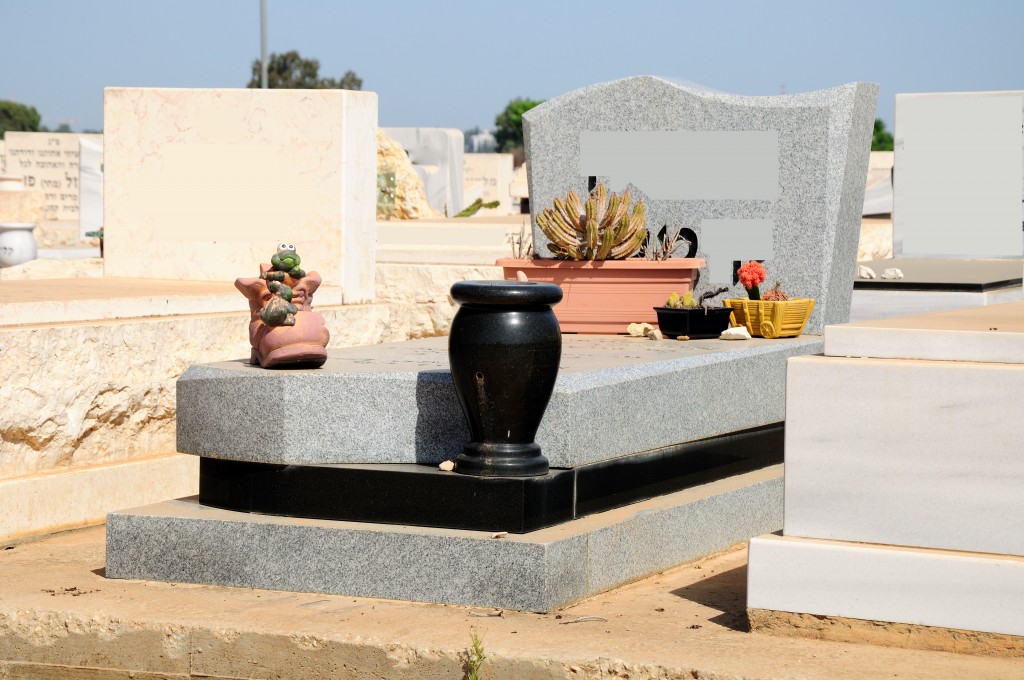 Children's gravestones and memorials
Gravestones for children and teenagers are often inspired by their youth. Many infant gravestones are shaped like teddy bears, favourite toys angels and hearts; while gravestones for teens commonly have carvings that represent their hobbies, such as music notes or cars. Always check the rules and regulations of the cemetery or churchyard particularly if you plan on purchasing something out of the ordinary. Choosing a memorial to remember a child can be extremely painful. You may feel that you need to make the decision gently, and in your own time.
There are many ranges of memorials specially designed to remember young lives. They range from headstones and statues to memorial vases and other graveside tributes – all with lasting durability against weathering. You might want to include designs and pictures of a popular character or hobby that has been particularly loved during the child's life, and represents happier times.
Inscriptions allow you to write some words of comfort family and friends who are mourning.
Resources:
Imortuary: Types of Headstones Ancestry: Types and Explanations of Headstones Children's Memorials: Stone Letters


 Gravestone Materials
Material plays an important part not only in the style, but also the durability of the gravestone. Granite, bronze and marble are the most commonly used materials in churchyards and cemeteries.
Granite
Granite is a material which boasts great durability and can withstand virtually any weathering. It's available in a variety of colours, such as black, red, blue and grey. Granite was traditionally very expensive but is now far more affordable.  Many churches only allow granite headstones to keep more uniform aesthetics in their graveyard.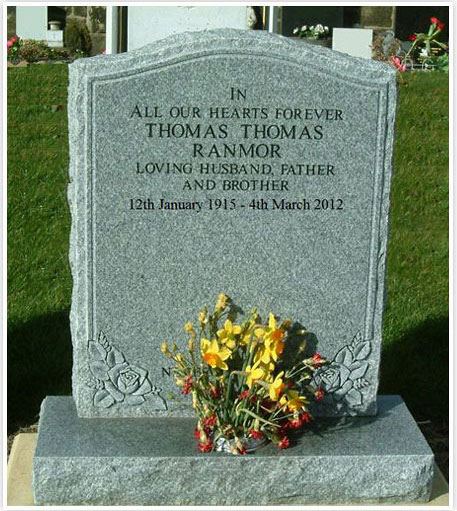 Bronze
Bronze markers are becoming popular in 2018 with some local authorities due to their hardy nature. Bronze will often darken over time, but is resilient and easy to maintain; however, it's generally more expensive than granite. It's not usually permitted in churchyards.
Marble
Although marble is strong and looks great, it's not as durable as granite and is more susceptible to weathering. It can't be placed placed in damp areas due to its weakness in structure. This means that inscriptions will likely fade over time. Marble is not permitted in churchyards.
Limestone
Nabresina is the most commonly used form of limestone and is of a light beige colour. It's durable and suitable for most churchyards. Nabresina can make an ideal alternative to white marble and is just as pleasing to the eye. Portland Stone is a widely used material, often just referred to as limestone and is another favourite within churches.
For more on Gravestone Materials, see Stone Letters.
Gravestone Finishes
Although granite and bronze gravestones are the easiest to maintain, there's no reason why other materials won't last with proper care and attention. When you've chosen the material you'll then need to select a finish. This can also have a significant impact on the gravestone's lifespan and appearance.
Polished
Polished gravestones are as smooth and shiny as glass and are permitted in virtually all council run cemeteries. Please note the majority of churchyards will not accept polished gravestones as they prefer a non reflective finish (see Honed/Pitched below). Polished gravestones require careful maintenance to prevent blemishes from occurring.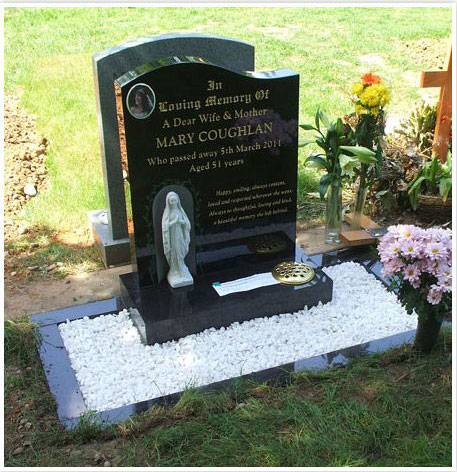 Part Polished
Part polished gravestones are only glossy on the face of the headstone and the top of the base. Typically, all other surfaces are left with a honed or pitched finish. This contrasting design is used to highlight images, inscriptions and the epitaph.
Honed
Honed finishes are smooth and non-reflective. This surface is crafted by partially removing the polish with dust. These almost always allowed in churchyards. The honed finish is often used where a headstone has many colours as it gives the design more depth.
Pitched
The pitched finish is much rougher than the others and can give a gravestone a unique appeal. This rustic look creates jagged edges and helps gravestones fit into older surroundings.
 Selecting a Design
Before you purchase a gravestone the dealer will show you a selection of styles and designs. All gravestones are bespoke and can be personalised however you see fit, with lettering, images and colours.

Images
You may want to consider hand etching a picture or family emblem onto the gravestone. Images often represent the lifestyle or beliefs of the deceased. For example, if they were an avid music lover, a picture of a guitar may be suitable. Symbols such as roses, doves or a bible, are very common in commentaries. Ceramics can also be used if you'd like a photograph on the gravestone.
Lettering
Different fonts can add character to a gravestone. The most popular option is a Roman font or one very similar. Highly stylised fonts such as Old English and elaborate 'script' like fonts may look good on paper but are often very unsuitable when cutting into stone. More simple italic style fonts are often used for verses, bible passages, poetry and quotes. The type of stone can also influence the appearance of the lettering. In most circumstances letters are carved into the stone and finished with gold leaf or painted with enamel, so it's important to have a contrasting colour to ensure they stand out.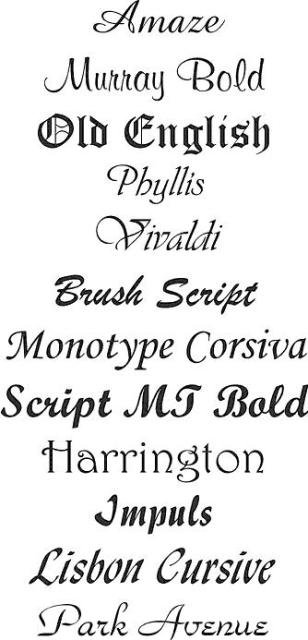 Stones
Although the stone is a crucial part of the design, you may not be allowed a stone of your choice. Most council run cemeteries will allow virtually all natural stones, however Church of England run burial grounds are far more restrictive on materials e.g. polished materials and white marble are generally not allowed. Preferred materials in churchyards are unpolished, light and dark grey granites. In exposed areas, such as open hillsides, a softer stone may weather quicker. In these cases a hard stone such as granite is recommended.
Colours
Gravestones can come in a wide variety of colours, the most common being black, red, blue, grey and white. As stated previously, cemeteries and churchyards may have their own material and colour requirements.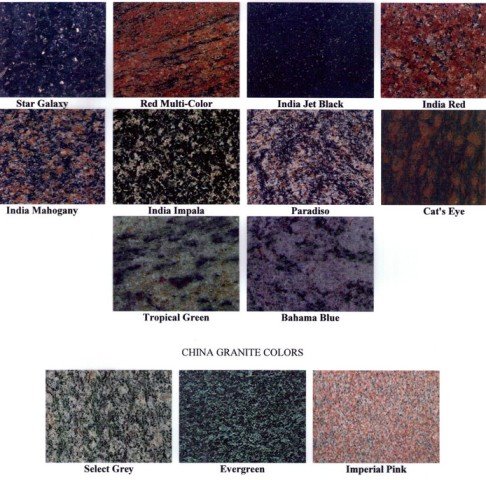 Dimensions
Always take the allowable size and dimensions into account when you're choosing your design. Don't use an over-sized gravestone for small markers or try to have too much in a small space. If in doubt, consult an expert. Designing a gravestone provides you with an opportunity to establish how the deceased is remembered. The design is the most important aspect of the process and is never a decision to be taken lightly.
Suggested Inscriptions
The inscription is one of the most important parts of a gravestone. It's the message that will represent the life of your loved one and should be short, timeless and dignified. Inscriptions are almost always carved directly into the gravestone. Sometimes inscriptions can be created on ceramic or zinc plaques and attached to the gravestone. Gravestone inscriptions mostly include the individual's name, date of birth and date of death.
Epitaph
An epitaph is a phrase or statement that's written in memory of the deceased. It can contain anything from bible passages to quotes, and should summarize the dead person's life, beliefs and accomplishments. The most common example of an epitaph is the phrase "rest in peace." Choosing the right epitaph can be very difficult since it's hard to summarise somebody in just a few words. If you'd like to make up your own epitaph, think about what the individual accomplished during their life and write a short poem about it. If you can't think of anything, take inspiration from the deceased's favourite poem, song or bible passage. Make it as personal and meaningful to them as possible.
Common Phrases
These common phrases are short and can work very well either on their own or in conjunction with other, more personal epitaphs:
In loving memory of…
Forever in our thoughts
Always remembered
The lord is my shepherd
Loved and missed by all the family
Together again
Poetry
Writing a poem about your loved one allows you to express your sorrow in a creative and dignified manner such as
"Softly the leaves of memory fall, Gently I gather and treasure them all, Unseen, unheard you are always near, So missed so loved so very dear"
"You are always in my thoughts, Your love is still my guide, And though I cannot touch your hand, I know you are by my side"
"Our Happiness Together Are Memories Forever"
Bible Passages
If you would like to choose a bible passage, study the verse to ensure it has relevance to your loved one's life and faith. Examples include:
I shall dwell in the house of the Lord forever. – Psalm 23:6
Blessed are the pure in heart, for they shall see God. – Matthew 5:8
Whoever hears my word and believes him who sent me has eternal life. – John 5:24
The Lord is near to all who call on him. – Psalm 145:18
He…has passed from death to life. – John 5:24
Resources:
Memorials of Distinction: Inscriptions and Verses Bible Gateway: Searchable Online Bible
Bible Gateway: Searchable Online Bible
Rules and Regulations
There are certain rules and regulations that you must be aware of regarding burials. For example, in churchyards, to erect a gravestone, permission must be obtained from the Vicar by submitting a CR1 application. Similarly, in the case of council run cemeteries, gravestone applications relevant to the individual authority must also be submitted for permission. Most memorial services will process this application on your behalf once you pay a deposit for their services.
Cemeteries
A cemetery is usually owned by the local council, and while there may be a building of worship within the grounds, they are not churches. Cemetery regulations allow more freedom when it comes to design, size, shape, material, colour and inscription. They are also open to everyone, regardless of faith.
Churchyards
In a churchyard the land is usually owned by the adjoining or neighboring church. Churchyard rules may differ throughout the UK.
Inscriptions must be compatible with Christianity.
Kerb-sets are no longer permitted.
Stones must be non-reflective (not polished).
Ceramics and painted colours are not permitted.
Although these rules may seem restrictive, you can overcome them by applying for special permission. While churches strive to continue traditions, they do positively encourage creativity. If you are granted permission to install a gravestone that doesn't meet standard rules and regulations, your church reserves the right to move it in the future.
Resources:
Home Office: Burial Law and Policy in the 21st Century Stone Writers: Churchyard Headstone Guidelines
 Gravestone Costs
The exact cost of a gravestone will vary according to the size, material, colour, finish, lettering and design. While small slant markers can be purchased for as little as £400, the average cost of an upright gravestone is usually between £800 and £1200. Granite is the most widely available material, making it the cheapest in comparison to bronze and other stones. However, some colours are only quarried in small amounts, which can make them more expensive. Delivery and installation is often included in the price. Delivery charges may be added to the bill if an order falls short of a certain price or is outside of a proposed radius. Memorial services may also only provide a certain amount of letters or characters for inscriptions; however, they will usually extend this limit for an additional fee (usually on a "cost per letter" basis). Although all gravestones are unique, specific bespoke services can also vary in price. For example, if you'd like a sculpture, additional colouring, mixed finishes or ceramic images, then this will cost extra.
Payment Plans
Losing a loved one is often unexpected and even although you can't install a gravestone straight away, you may still feel like you have little time to prepare and save money. Some memorial services will offer payment plans to help ease the pressure. Local stonemasons may also agree to these terms if you speak with them directly and explain your situation. A good example of spreading the payments is where a stonemason takes a small deposit at the time of order, i.e.20%, followed approximately 2 – 6 weeks later by a further 60% once permission has been received from the burial ground authority. It should be noted that the manufacture of your gravestone will only commence once permission has been received from the cemetery or church. Manufacture typically takes 10 -14 weeks after which the gravestone will be fixed. Any remaining payments will usually be made either just before fixing or within the week or two that follows.
Burial Ground Fees
Burial ground fees can also significantly vary depending on the churchyard and cemetery. These fees will cover the cost of excavation, matting and cemetery staff attendance. Additional burial fees may be required if you want the grave to be in a specific place. For example, if you'd like the grave to be in an area that's currently overgrown, the cemetery may have to hire a professional to remove the shrubbery. Burial ground fees can also change depending on the size of the grave, age of the deceased, and whether or not you are a local resident. Expect to pay anything between £100 and £1000 to cover these costs. Your stonemason will normally arrange for the payment of fees on your behalf but it must be noted that they are not included in the cost of the gravestone.
Timescale and Installation
Gravestones are usually erected six to twelve months after the burial but this time can vary greatly depending on individual circumstances. For example; some cemeteries will already have laid a concrete Raft or Beam which runs along the head ends of a line of graves. In these cases a gravestone (an upright headstone) can be ordered as soon as it suits the bereaved family as there is no need to wait for settlement of the grave. Conversely, if permitted, a full kerbed type of gravestone (one with edging that covers the whole grave), is best not installed for at least 12 months following the burial. In the case of interment of ashes, virtually no settlement time is required due to the relatively small nature of the hole that has to be cut into the grave. Whilst families can often be very keen to have the gravestone installed, it is best not to have it fixed earlier than is recommended by the stonemason. The gravestone to a loved one will be there for a long time and if it means that the installation will just miss an important date ( First anniversary of the death or a birthday etc), this should be accepted as the longer you give the grave the chance to settle, the greater the chances are that the gravestone will remain stable and upright. It should be noted that however long you leave the fixing, it is likely that the gravestone will move at some point, be it ten years later or if unlucky, within days of the fixing: Even in the case of an ashes interment, you must remember that soil / ground is constantly on the move. Your stonemason will always fix the gravestone in the most suitable way you must remember that they cannot control the movement of ground!  Most cemeteries require the fixer to be licensed by organisations such as the British Register of Accredited Memorial Masons (BRAMM) or the National Association of Memorial Masons (NAMM). Non-accredited masons and fixers will be unable to work in any cemetery which has signed up to one or other of these schemes. BRAMM was formed in 2004 to promote a higher standard of memorial construction. All of their licensed fixers have passed a written and practical test to prove their competence in the fixing of memorials.
Resources:
British Register of Accredited Memorial Masons: Official Website
Preservation and Cleaning
Gravestones will often deteriorate over time due to weathering; however, there are various preservation and cleaning techniques that you can use to help increase longevity and limit the effects of discolouration.
Consolidator
Conservair is a consolidator made by a company named Prosoco. It will penetrate into the surface of gravestones and help re-bond their structure. Most sealants will hold moisture in voids, which can cause expansion and further damage; however, Conservair will fill these voids and prevent moisture from building up. Conservair is only effective for use with sandstone, limestone and marble. For the most effective result, consolidators should be applied to gravestones before they are erected.
Sealer
There's a common myth about gravestones that states stone and tile sealer will preserve them. However, these chemicals are not recommended as they can trap moisture and cause adverse effects. Over time gravestones will accumulate deposits from hard water, dust, dirt, mould, lichens and fungus. Before you start to clean anything off it's important to understand what cleaning methods are suitable for the gravestone. Without any knowledge you could do more harm than good. In addition, you should always check the gravestone to ensure there is no flaking on the surface, and that it's firmly in the ground.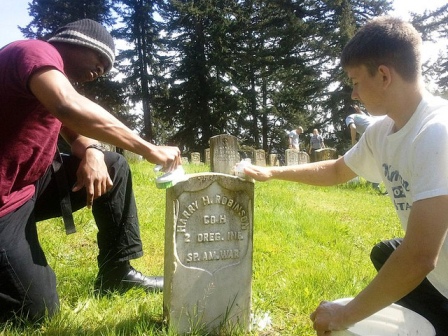 Limestone and Sandstone
With a hardness of only 3-4 on the Mohs Hardness Scale, limestone and sandstone are among the softest materials used for gravestones. Due to their fragility it's important to thoroughly assess them for damage before you begin cleaning. To clean, mix a cup of non-ionic soap in a bucket of distilled water and use a natural bristled brush to wipe the surface. Do not use metal wire brushes, acidic cleaners, household cleaners or pressure washers. Doing so could cause the gravestone to crumble.
Marble
Marble has a hardness of 4-7 on Mohs Hardness Scale, making it tougher than sandstone and limestone, but not as durable as granite. Although marble is fairly tough, it's still not a good idea to use a pressure washer To clean, mix a cup of ammonium hydroxideor in a bucket of distilled water and use a natural bristled brush to wipe it over the surface. This will remove any moss, algae and lichen. Rinse off the cleaning solution with distilled water when you have finished.
Granite
Granite is the strongest material with a hardness of 7-9 on Mohs Hardness Scale. When cleaning granite, mix a cup of non-ionic soap in a bucket of distilled water and use a non-metallic scouring pad to scrub the surface. This will remove calcium deposits. It's okay to be a little more aggressive with granite as it's much stronger than other materials. Feel free to use a pressure washer; however, be wary if the gravestone is coloured. The strength of the water flow could strip off paint in engraved areas, leaving little contrast for the reader.
Bronze
Because bronze plaques are often mounted into a flat base, they can be more susceptible to weathering. Bronze gravestones usually have a lacquer finish, which if neglected, will deteriorate over time. Unlike other materials, bronze gravestones require waxing after they are cleaned in order to bring out the shine. Start by applying a small amount of water mixed with non-ionic soap to the bronze with a natural bristled brush. After scrubbing off any dirt, rinse the bronze with distilled water. Make sure the bronze is completely dry before you apply the wax. To speed up the process, use a flannel cloth to wipe it down. Apply the wax with a natural bristled brush. Coat the entire surface and then buff the bronze with a flannel cloth to bring out the shine. Do not clean bronze markers too frequently and remember that bronze will natural darken over time.
Natural Cleaning
Slugs and snails can be used to naturally clean gravestones as they actively consume lichens, mould and algae. To utilize this cleaning method, make an artificial greenhouse by covering the gravestone with a polythene sheet. If you leave it for a few days in hot weather it will attract slugs and snails and encourage them to do the hard work for you. Regardless of which cleaning method you use, always wash the gravestone from the bottom up and make sure any bronze plaques or ceramics are covered before you begin. When you finish, make sure the cleaning solution has been completely removed – long term exposure could cause damage. Gravestones do not require cleaning on a regular basis, definitely no more than once per year. In fact, some gravestones should not be cleaned more than once every ten years. In addition, you may need to seek permission from the churchyard or cemetery before you begin as they may have a registered caretaker that will conduct the process on your behalf. If there are deep stains even after you've cleaned the gravestone, don't remove them. You should also not attempt to refinish gravestones yourself.
Resources:
Grave Stone Preservation: Sealing Stone Prosoco: Official Website Geology: Mohs Hardness Scale Walker Metal Smith: Preserving Bronze Plaques And Memorials Stone Pics: A Unique Method For Cleaning Headstones
Frequently Asked Questions
Q: How long will it take? A: Every company is different; however, standard manufacturing time is around 12 – 14 weeks from when all permissions and payments have been arranged but DO remember, a permit MUST be issued before manufacturing can proceed. Some Local Authorities and Churches can be extremely slow in issuing permits and you must take this time into account as it is additional to the manufacturing time! Q: When do I pay? A: Again, this can vary depending on the company. In many circumstances a deposit of 20% is required upfront, a further 60% upon approval, and the final 20% upon completion. Q: Where can I find the rules and regulations? A: It's best to contact your memorial service. They will be able to tell you which churchyards or cemeteries will approve your preferred design or what steps you must take to get permission to install it in a specific area. Q: How do I order a gravestone? A: Most memorial services will take orders over the phone or in their showrooms. After you initially contact them a meeting is usually arranged where you can discuss the logistics of the design and inscription. Q: Where can I find pictures? A: Contact a memorial service and ask for a brochure. Additionally, if they have a website they will probably have a catalogue of their gravestones. Further Reading: GOV.UK: What to Do After Somebody Dies The Association for Gravestone Studies: Official Website
History of Gravestones
Before cemeteries and churchyards existed, gravestones were used to mark burial plots near family homes. These gravestones were usually made from piles of rock or wood and were marked with only the deceased's name, age and year of death. In around 1650, churches started allowing gravestones to be erected on their grounds. Originally only the middle and upper classes used them; however, after Protestant theology was established, it became common practice. Up until 1900 most gravestones were constructed from large pieces of square slate or sandstone. After this period public cemeteries emerged and people started using gravestones as a way to memorialize the dead. This resulted in more intricate designs and meaningful inscriptions. Engraving an epitaph about the deceased and adding their birth date soon became the standard and is a practice that is still conducted today. During the Victorian area (1837-1901) practices revolving around death were exemplified, which birthed lavish gravestone designs which included artwork, sculptures and family symbols.
The Term "Gravestone"
The term "gravestone" was coined by members of the Jewish faith who would honour the dead by placing stones on burial sites. This tradition started when a man broke Sabbath and felt so guilty that he asked people to "stone" his grave after his death.
Image References:
Upright, Flat Marker, Slant Marker , Granite, Polished Memorials of Distinction Shapes Molyneux Jones Fonts Headstonenz Colours Riverside Memorials Cleaning The U.S. Army Is there something I have missed or that you think should be added to this definitive guide? If so let me know in the comments below or email me gravestoneshq@gmail.com.